"Replenishment remains a top priority"
Replenishment processes are becoming more complex, logistical requirements are becoming more complex and an optimized control of the working capital is becoming more and more important. Standardvmethods have to give way to modern concepts and the need to adapt is increasing. One consequence of this is that differentiation and the associated competitive advantages are increasingly difficult to achieve. Availability, appealing assortments, shopping experience and price advantages are the focus of your customers, much more than brand or location loyalty.
New requirements due to the influence of different sales channels (multi-channel or omni-channel), increased transparency, also increasingly due to mobile or connected applications, growing amounts of data (big data), the use of AI-controlled methods (supported by machine learning) and growing competition, pose ever more complex challenges to retailers and thus to the entire supply chain.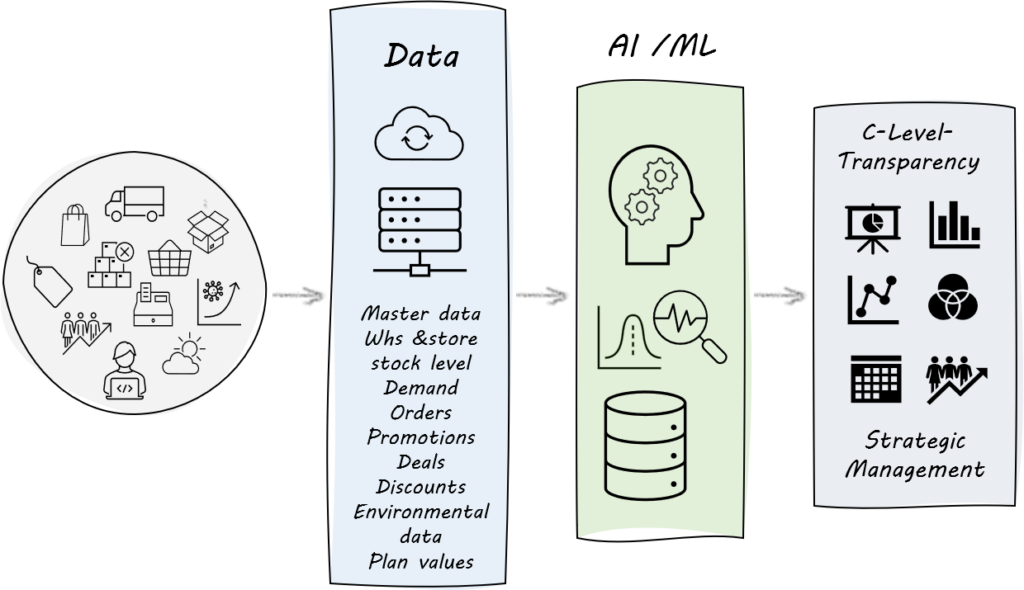 "Sales generates revenue, buying instead your profit !"
In order to remain successful, competitive and interesting for your customers, you have to constantly break new ground and want to implement strategies as quickly as possible. Not too seldom the focus remains on the sales side (POS)…
However, in order to grow with new requirements and at the same time to achieve optimum profitability, it is important to control better essential goals within the entire supply chain – often with a focus on the demand chain:
Reducing working capital
Increasing service levels
Optimizing presentation stocks
Reducing logistic cost
Advanced transparency
Central management
Give us a challenge!
Let us explain to you in an individual presentation tailored towards your company's situation how the economic and technological benefits of Demandsoft's offering can secure your company that decisive competitive edge. Because the optimization of replenishment strategies and methods to control a high availability (service level) are still the most important issues in retail and remain a top priority!