An integrated portfolio for the entire demand chain
Demandsoft's replenishment solutions understand, integrate and optimize procurement processes for the various stages of the entire supply chain. This includes the economic and service-oriented optimization of the central warehouse, a customer service-oriented product presentation in the stores, as well as the integration of individual requirements from omnichannel structures (B2B, B2C or online businesses).
The Demandsoft Co-Operation Chain
The proven methodology for the introduction and integration of our products accompanies you through every stage of integration and is always planned together in advance. So that nothing is left to chance. And if you have any questions or requests before, during and after the implementation, we are always at your disposal.
VIP accompanying programs
In addition to solutions, Demandsoft offers service programs for agile optimization. With individually coordinated content and goals – similar to consulting agreement – data, business processes and strategies are examined, adapted and continuously expanded for sustainable optimization. In addition, we ensure the transfer of know-how in every phase so that your employees can make full use of any applied process optimization.
Continuously improve results, automate ordering processes
Demandsoft ensures a high level of cost-effectiveness and an increase in readiness for delivery from the central warehouse all the way to the stores (POS). Our portfolio integrates replenishment solutions with which well-known market leaders from a wide variety of industries have achieved measurable results with the modernization of their replenishment processes.
Our replenishment and inventory management solutions and services for the entire supply chain – understand, integrate and optimize demand driven processes in the various levels of a wholesale or retail company. This includes an increasingly economical and service-oriented optimization of warehouses and stores, dealing with different requirements to achieve high service levels, high profits and optimized product strategies.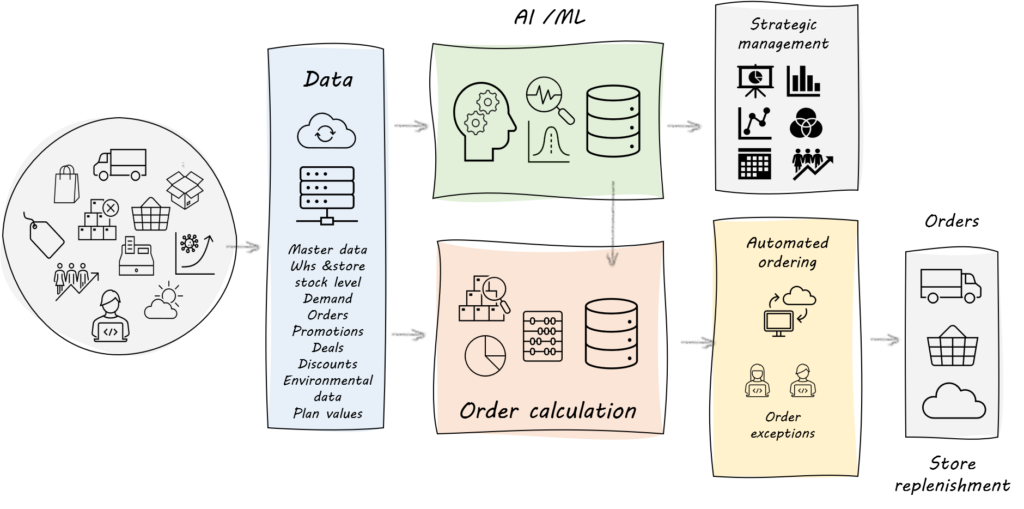 … with a flexible workflow
The workflow for the automated order calculation consumes available data, automatically generates and evaluates results and checkes for validity. Depending on rules and specifications, orders are automatically created from this or (if required) submitted to buyer (users) for a final review. Always oriented by the urgency.