Ordering from the industry
Vendors, import and direct deliveries
We differentiate between warehouse orders from vendors and store replenishment from central or distribution warehouses to retailers. At warehouse level (warehouse orders) there are numerous possibilities and strategies with a sustainable, optimizing influence on your cost situation and availability within the demand chain.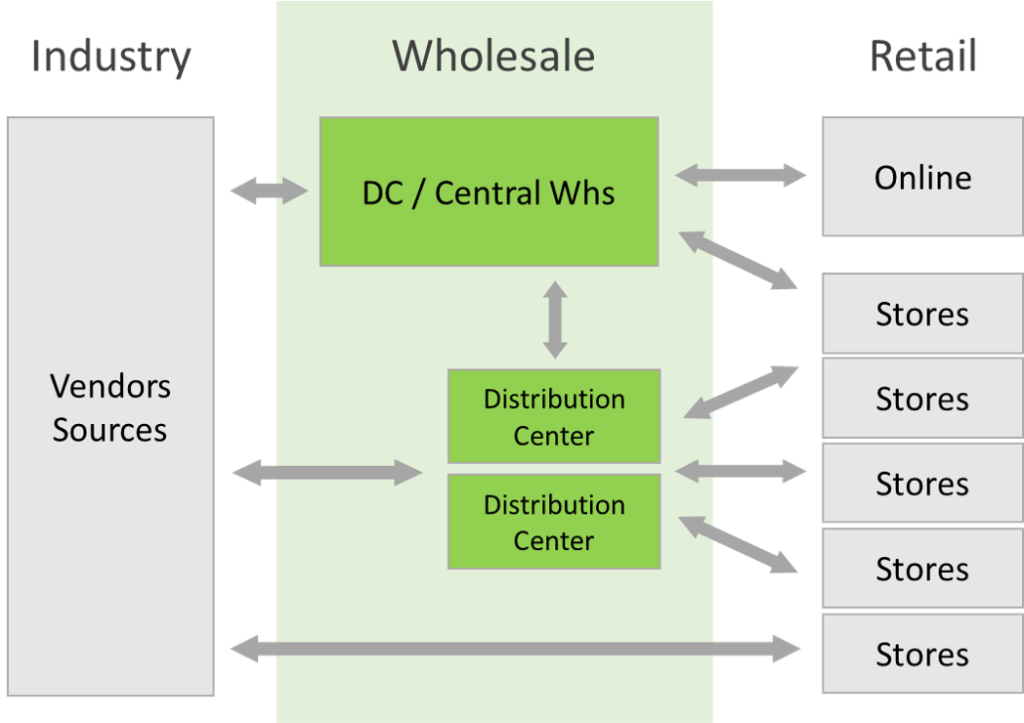 "Sales generates revenue, buying instead your profit!"
Ordering from your vendors is the moment you deside about your profit margings. Mistakes at that level will need to be carried troughout your entire demand chain, all the way down to the shelfs of the POS. Utilizing advanced functionality with focus on cost and service levels is a "must have" and "must do" on this level.
Optimal use of price advantages from SKU discounts or vendor brackets, economic optimization of the order cycles, the optimization of a dynamic day supply and cost reduction through logistical optimization of the ordering processes offer great opportunities to reduce costs and further improve margins.
Order splitting and allocation, ordering with vendor groups or separately according to assortments (sub-vendors) also help to further increase profitability and sustainably reduce the workload for buyers in order to free up more time for essential activities.
With maximum economic efficiency, more time for the essentials and sustainable results
The service oriented direction of optimized coverage ranges in central or distribution warehouses is based on complex processes, but is of absolute necessity when your service level and sustained cost reductions within the value chain are at stake.
Proposing orders automatically, advice or support in special constellations or unexpected situations is standard today in the order processes that you automatically receive with our solutions. By using calendar-centric ordering techniques, you also automate the consideration of public holidays, vacation times, seasonality and special influences. Automatically!
Precisely to the day, even several times during the day if required, the availability in the warehouse is analytically compared with the expected sales and, depending on the situation, order proposals are automatically proposed. Order proposals are coordinated with the reach to be achieved (order rhythms) and synchronized with forecast sales in the network.
With our order methods for central trading levels in the supply chain, complex order invoices are kept in balance for balanced (synchronized) ranges of a warehouse, availability is secured and increased, panic orders are reduced and incoming goods are harmonized. Regardless of whether you have one or many locations and regardless of whether you only order hundreds or millions of items. volume_upcontent_copyshare
DEMANDSOFT achievments
Stock reduction up to 35%, depending on the strategy
Revenue increase through service optimization
Cost reduction with synchronized replenishment processes
and dynamic calculation methods (order balancing)
Unified workflow to allow for more efficient activities
Increased transparency
KPI-Tracking utilizing AI supported by machine learning
Advantages
Adaptive demand forecasting utilizing AI-techniques, supported
by machine learning (ML)
Integrated seasonal and trend analysis
Automated item management functionality
Free classification and rule based class management
Calendar centric order management (to manage calendar constrains like vacations, holidays, to manage receivings and shippments)
Event management and promotional forecasting
Auto order validation
Deal management and forward buying methods
Workflow managed by exceptions
Additional benefits
Replenishment processes managed by exceptions and integrated automation logic
Multi Sourcing
Group- and sub-vendor order logic
Automatable order split techniques
Integrated lead time forecasting, order analysis and order response
Vendor order policy analysis and order bracket logic
Assortment analysis and supersession management
Automated transfer and allocation logic
Reporting and analytics
Scalable architecture and microservices
Integrated portal connectors for special enhancement and cross department process support