Continuously improve results and
automate ordering processes
Our Replenishment and Inventory Management Solutions for the entire Supply Chain understand, integrate and optimize demand driven replenishment processes at all different levels of the Demand Chain. This contains the economical and service driven optimization of stocks levels in warehouses or distribution centers as well as the presentation oriented shelf replenishment processes of retail stores, managing different requirements for optimized availability, managing cost impacting processes and utilizing product strategies all the way to the customer at the POS.
Automate and sustainably optimize replenishment & inventory management processes
Demandsoft focuses on increased economics and service levels from the warehouse to the stores. The Demandsoft Portfolio integrates replenishment methods and solutions developed inhouse that proved themselves with multiple customers in retail and wholesale throughout all Europe and industries. Each of them did achieve measurable sustaining results after modernizing their replenishment processes with our solutions.
Workflow
The workflow for automated order calculations requires that data is available in a corrected and evaluated form. After this, orders are generated, evaluated and checked for validity. Depending on applied rules and specifications, orders will either be ordered automatically or get submitted to the assigned buyers for a final review.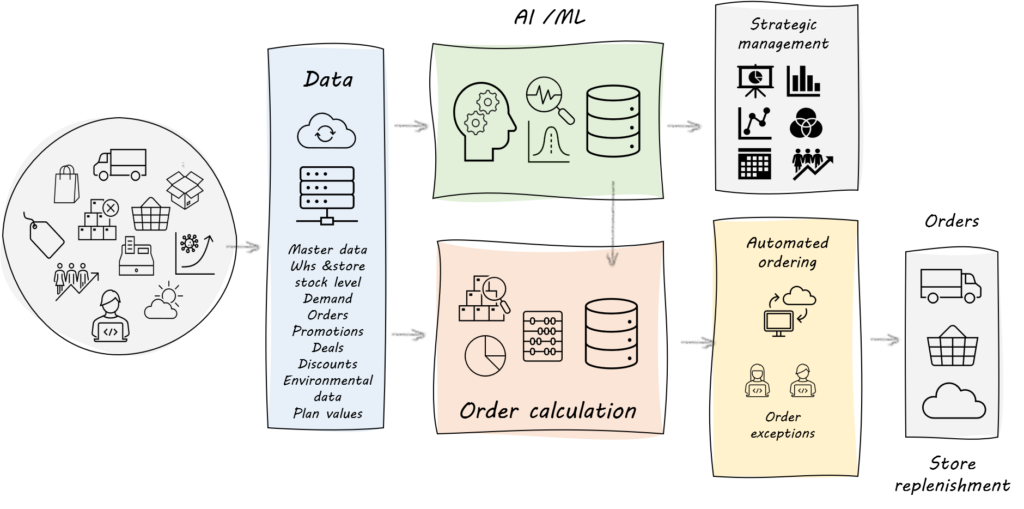 Automation with methodology
Next to a professional, more transparent and manageable automation, our customers achieve real results with minimizing inventory levels, stabilizing and increasing their service levels (availability) and optimizing their store level presentation stocks as well as service levels. Demandsoft helps to support and increase the competitive standing throughout the entire Demand Chain. Replenishment processes move away from an administrative workflow towards more automation with strategic functionality. With Demandsoft's solutions buyers move away from administrative static activities, towards more automation inside the ordering process, manage their daily work driven by exception and with a strategic goal oriented workflow. Companies do operate foresighted with methodology and economically optimized walking away from individual experience levels sometimes driven by gut feelings.
From buyer to item manager
Buyers will be led by a proven methodology and investment oriented functionality that improves the ratability and competitive position of a wholesale or retail organization. They do gain additional time for more profitable or critical work, with focus on stock availability (service level) and therefore on results for improved real customer satisfaction. Demandsoft's focus is always set towards improving this quality and on advanced development for its product portfolio matching its customers' needs for greater results and increased satisfaction while integrating our solution portfolio.